Handmade Wedding Crafts For That Special Day
A wedding is special, unique and personal. Making your own wedding crafts allows you to be different. Do you really want the same accessories and decorations as everyone else? Of course you don't!
In recent times we have started to see a return to handcrafted individual items for weddings.In years gone by many brides had no choice but to make many of the things they needed for the big day,and if they couldn't make it there was usually someone who could.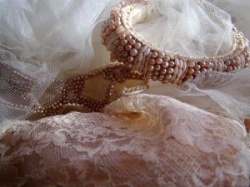 These days with so much choice and many mass produced goods it could be easy to over look handmade wedding crafts but for that personal and unique touch it's the way to go.
There are so many ways you can use your craft skills when making items for a wedding.
Shop the CreateForLess Weekly Specials and save on hot craft supplies, new products & more.
Wedding Scrapbook Layouts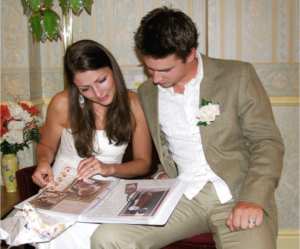 Scrapbooking is a really popular craft which allows you to create memory pages of events throughout your life. What more special event to celebrate than a wedding?
I created digital scrapbooking layouts for my daughter's wedding containing pictures and stories from babyhood to her wedding day. She was living away from home before her wedding and knew nothing about the album until her special day. When presented with it, she was overwhelmed. During the reception that book was passed round all the guests who ooohed and aaahed over it. A definite success.
We will be featuring scrapbooking, including using the computer to create pages, here on the site in the coming months. In the meantime you may like to visit Alun's site which is full of themed scrapbook ideas.
Wedding Stationery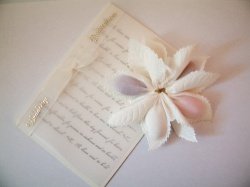 Stationery has got to be one of the easiest of wedding crafts to do yourself. You can start from scratch buying the card, embellishments and peel offs.
Choose your card stock and if you want purple you can have purple or any other colour for that matter! That's the fun of making your own. You can embellish with ribbon trim, lace, scraps from the wedding or bridesmaids dresses, hearts, flowers - the choice is yours.
Don't forget invitations to the wedding shower also. The festivities begin before the big day itself.
Or buy your invitations pre-embossed with envelopes supplied. You will be able to buy matching place name cards, menus pre-embossed also. Then all you need to do is add your decoration.
These ideas are ideal for smaller weddings but it will depend on the time you have available.
Handmade wedding stationary is hugely popular now and many handcrafted card companies will provide this service. Make your invites unique and special to your day.
Wedding flowers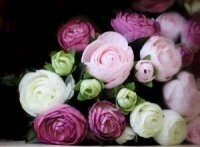 So then let's think about the flowers - yours and those for decorating the venue and tables.
This is one area of the wedding that can be very expensive. Choosing flowers in season helps with cost and availability. Only use a florist if you really have no alternative.
If you are remotely creative you CAN do it yourself.
Hand tied bouquets are fabulous and are simply arranged,bunched together and secured with florist binding and co-ordinating ribbon.
There has also been a trend for single stems of statement blooms such as lilies and orchids.
Your venue will have flowerstands available, use florists oasis (the green spongy stuff!) and go create!
My mum did mine and nobody was any wiser, she bought and arranged them the night before for less than half the cost AND they were unique. Chosen by me and arranged by someone with flair.
The same for your table decorations. Select a container - I like those flat mini silver platters that are often used for serving food! Just think "outside the box" as they say. Again use your florists block (has to be wet) and arrange the flowers.
If you are thinking it's all too much work, too close to the day, then think about silk flower arrangements for your wedding day instead. It can be hard to tell them from the real thing.
Wedding favours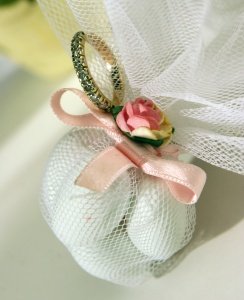 Having wedding favours is still quite new for British brides. Although a popular custom in the U.S for some time, favours were really only seen at Mediterranean weddings up until a few years ago. So thank you to our European and American cousins for this lovely idea!
This is one of those wedding crafts that is so easy to do yourself.
Decide what candy or confectionery you would like. Sugared almonds are a popular choice or dinner mints or chocolate cremes. The choice is YOURS for your wedding. Anything from Jelly Babies to Champagne Truffles!
You will find just as many choices for packaging too. Cute little boxes and bags tied up with ribbon and bows. I love the organza bags for wedding favours, they really do make the gift and the table look extra special. Most of your guests will take them home too!

Wedding stitching
Now you may not feel confident enough with your sewing skills to make the wedding dress itself, but you might like to think about making the bridesmaids dresses? Or how about the headbands, the ring pillow, beautiful bows to decorate the church pews or even a lucky garter?
If you like needlework and embroidery you could stitch a wedding sampler using cross stitch or blackwork.
Wedding cakes
Someone has to make the Wedding Cake and the chances are - unless you buy it ready made from a store (yes you can!) that it will be made by hand. Well, a mixer or blender maybe involved at some stage, but it will be iced by hand and decorated with handmade sugar craft decorations too. Yes cake icing definitely comes under the heading of wedding crafts!
Your cake can be traditional, quirky, modern. Simple or fancy. White, pink,chocolate or rainbow coloured if thats what YOU want!
A good friend of mine who got married near Christmas had a two tier chocolate wedding cake covered in red roses. It was stunning! Also one tier was fruit cake and the other sponge cake. A great idea that suits everyone.
You will notice that I place a very strong emphasis on having what you and your groom want for your wedding.It's YOUR day. There will never be another one like it. All too often couples end up having the wedding their relatives want! Or think they should have!
Enjoy your Wedding Day! And enjoy the creativity (and money saving) of making your own wedding crafts.
You will find tons of information about arranging your wedding a Create a Christian Wedding.
---
---