Digital Scrapbooking Layouts - Wedding Samples
Let me start by sharing my story about digital scrapbooking layouts.
Once my daughter had planned her wedding date, I started work on creating her a special gift.
Not having easy access to scrapbooking supplies, and with a tight deadline to work too, I decided to create the album on the computer with digital scrapbooking.
I thought I would share with you some of the pages in her album.
Digital scrapbooking layouts - wedding 1
My daughter was a bridesmaid for my cousin Tracy at her wedding.
She was thrilled with her pretty pink dress and enjoyed spinning around and making it swirl. I'm never without my camera, and always on the lookout for the candid shot, so quickly snapped her in motion. I also included a more formal shot of my mother with my two children. From this picture I also created a close up shot of my daughter's happy face.
A white box with a shadow gave me an area to journal in, topped off with a cut out photo of a rose bud from my garden. I created a circle in my graphics program and added highlights and shadows to resemble a pearl. I copied and pasted the pearl and formed a heart to surround the month and year of the wedding. I finished the page off with a plain pink background to tone with the bridesmaid's dress and rose bud.
Digital scrapbooking layouts - wedding 2
Just over a year later my sister got married. My daughter was one of the bridesmaids again. This time in lemon.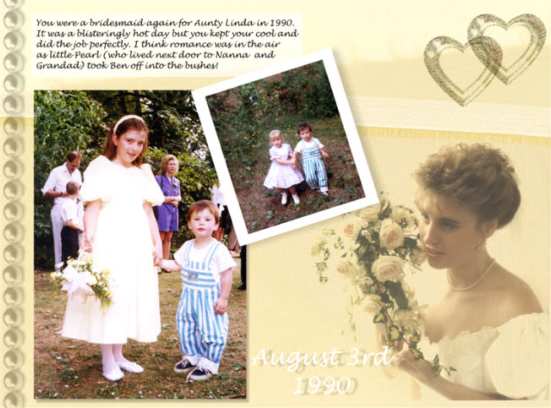 For this layout I started by scanning in a piece of the fabric from the bridesmaids dresses for the page background. I then positioned photographs of the bride and of my son and daughter on the page. I overlaid a transparent "velum" layer on top of these photographs. Another photo of my son and a friend was given a white border and arranged at an angle overlapping both previous photos. The month and year were added and given a shadow. The journalling again used a white box and the layout was completed with a pair of golden hearts.
With digital scrapbooking layouts you have options that are not possible with paper and embellishments, however, I try to make my layouts look as though they could have been made that way.
When I eventually gave my daughter her album on her wedding day she was surprised and delighted.
A gift that meant the world but didn't cost the earth.
---
How to Make a Scrapbook

Ideas and tips
for your first scrapbook.

Wedding Crafts

Wedding craft ideas
for your special day
---