How to Make a Scrapbook and Why
Do you want to learn how to make a scrapbook?
Let me show you how to make a scrapbook that captures the excitement and thrills of childhood, those tranquil moments of love, the fun of
vacations, the colours of autumn, those "firsts" that occur only once.
Whether you want to created your scrapbooks by cutting and sticking or if you want to use your computer to create digital scrapbook pages you will find help here.
Looking for ideas on what to scrapbook? On how to make the most of your momentos? On what to include on a page? Over the coming months this section of the site will help answer these questions and more.
In fact let's start by answering a question. What is the difference between a photo album and a scrapbook? Both contain photos but a scrapbook can have lots of other things included.
A scrapbook may also momentos and keepsakes such as:
tickets and menus, reminders of a great day out
invitations and service sheets,
your puppy's first collar,
your favourite recipes that grandma used to cook,
Anything, in fact, that will help tell the story of a special moment in time. If the items are too bulky to be included you could scan or photograph them to use in your layouts. You could even try scrapbooking poems written by family members.
I'm sure you have an old photo album like mine, with pictures attached with stick on black corners, of people and occasions that you can't quite remember. Who was that red head sitting next to your cousin? Where was that beach? How old was Jack in that photo? And why on earth did I take a picture of Jane with such a silly expression on her face?
Some albums have space under the photos where you may have written a caption in white pen on the black pages. But does it tell the whole story? Does it let the viewer know how you felt when the picture was taken? Does it answer the five main questions: who, what, where, why and how?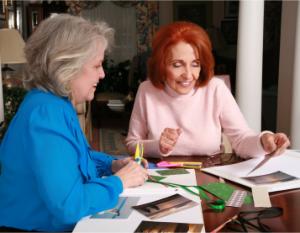 We all have special stories to tell. Moments in our lives that are worth remembering and recording. Learn how to make a scrapbook and save those moments for posterity.
Wouldn't it be nice if our grandparents had known how to make a scrapbook? My grandmother stuck her birthday cards into a book of grey sugar paper that she bought for pennies from the corner store. But she cut the fronts of and just stuck those in. No mention of who the card was from or what relation they were to the birthday girl.
What fun it would be to peek into our parents childhood and find out a bit about those mysterious great aunts and uncles that you can only ever remember being old. To watch them dance and cavort at parties with the energy of youth, when it seems like they have walked with a cane for ever!
Scrapbooks are a way of capturing the everyday events we encounter as well as the magic moments. They are nostalgic for us to look back at but also provide a glimpse into the past for generations yet to come.
They offer us a way to be creative and have fun. A way to share our feelings, happy or sad.
Come with me on a journey and learn how to make a scrapbook.
---
---