Mothers Day Cards Scrapbooking Ideas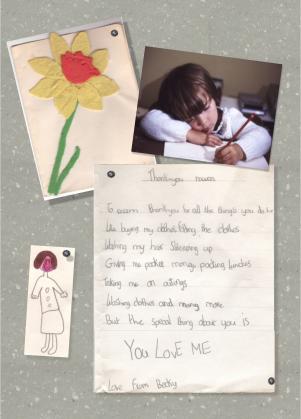 My Mothers Day Cards Scrapbooking Story:

As a mother I used to love the moments when my little ones gave me handmade mothers day cards. Scrapbooking them is a way to preserve those memories for ever.
These memories are so precious that it is worth devoting a whole page to each child that gave you the mothers day cards. If you are creating your layout straight away you could even ask the child to help you decide where to put the items on the page.
The words that they use inside the card can be just as important as the effort that went into making the front of the card. It would be a shame not to include their sweet greetings in your layout as well.
Of course you could stick the card in place so that it opens for people to read the message, or even cut the card down the fold and use both parts in the layout separately, but I had an added problem with the card Becky made for me one year. She had drawn a delightful little picture on the back of the card which I also wanted to keep.
My solution was to scan each side of the card and make a digital scrapbook layout.
It is best to use neutral backgrounds so as to put all the empasis on the mothers day cards scrapbooking itself. I chose a soft grey/green textured effect for mine.
Like me, you could incude a photograph of the child who gave you the card in your layout. If you have one of them actually making the card it would be wonderful to include it, but often the cards are made at school and no photograph is available. For my layout I used a picture of Becky writing as I was including the greeting in my layout.
Depending on the subject matter on the front of the card you could include matching embellishments on your layout. However, I choose not to add anything extra so that all the attention was centred on Becky's work.
So what did she write inside the card? You may not be able to read it from the picture so I have copied it below.
Thank you Mum
To mum, thank you for all the things you do for me
like buying my clothes, folding the clothes
washing my hair, sweeping up.
Giving me pocket money, packing lunches
taking me on outings washing clothes and many more.
But the special thing about you is
YOU LOVE ME.
Love from Becky.
From this you can perhaps gather that she grew up being very fashion concious!
---
You could use the ideas on this page for any special card you receive, whether from a child or adult, for any occasion. If it means a lot to you when you receive it, then its worth preserving.
Enjoy your Mothers Day cards scrapbooking.
---
How to Make a Scrapbook
Ideas and tips for your first scrapbook.
---
---