Your Home for Handmade Craft Ideas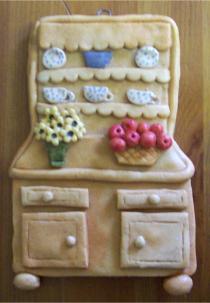 Are you looking for handmade craft ideas for yourself or your children?
Are you a crafty person, in the best possible sense of the word?
Do you hoard bits and pieces of craft materials that may come in handy for a certain project? Is a craft shop like an Alladdin's cave to you? Do you always have to be busy creating something? Want to try something new?
It sounds like we are on the same wavelength! And Handmade Craft Ideas is the right place to have fun!
We hope to build your treasure chest of craft ideas that you can dip into when you want to try something new or expand on skills you already have.
Together we will create handmade gifts for friends and family. I'm sure you have experienced the delight on someone's face when you gave them something you had made especially for them. Nothing can beat it can it?
My mum always taught me there is as much pleasure in giving as in receiving and this is certainly the case when you have spent time creating something for that special person. It shows you care and its great fun!
Of course we won't give everything away, some we will keep for ourselves to decorate our homes or help us to celebrate special days in our lives.
We will find ways of spending time with our children enjoying many handmade craft ideas, having fun and teaching them at the same time. What better way to create lasting memories of childhood than making things together.
This Site Needs YOU!
To make this site work for you, I need you to help me. Drop me a note and let me know what's missing. What else would you like to see here? What is your favourite craft? Do you have tips you can pass on that will help other crafters?
Crafters is your page where you can share and have your say. Use it.
---
---
These paper quilling ideas will keep you rolling, coiling and creating! Make beautiful one-of-a-kind cards with this fun paper craft also known as paper filigree.
Use our basic cardmaking instructions to learn how to make handmade cards, including what paper to use and what supplies you will need.
Our introduction to kids crafts looks at the different ways you can have fun with your children while educating them too. Explore the fun of crayons and playdough, and even host a craft party.
Learn how to make a scrapbook that captures the special moments of your life. Come with me on a creative journey and make a memory album your family will pass down for generations.
Ideas for making jewellery you'll be proud to wear, including an instructional video on how to make wire rings.
Create beautiful wedding crafts for family and friends. Ideas and instructions for wedding scrapbooks, favors, flowers, cakes, and more.
Attention all crafters... Share your favorite craft ideas and tips with us. Build your own craft page and share it with your crafty friends.