Making New Baby Cards
What better way to celebrate a new arrival than by making new baby cards for the parents.
Making a card can involve many different crafts. Our first project uses
paper quilling
to make new baby cards that celebrate the pitter patter of tiny feet.
If you are a keen cross stitcher you could use an aperture card to mount a small piece of stitching. You will find the pattern I have used on the card, left, at X-Calibre Designs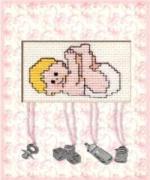 Traditionally cards for a new baby are made in pale blue or pink, but you certainly do not have to stick to these colour schemes. If you wish to make the card before the baby is born and you do not know what sex it is going to be then why not use lemon, aqua or lavender? Or you could go ultra-modern and pick bright colours.
Popular subjects include prams or cradles, bootees, baby bottles, nappies (diapers) and nappy pins, bibs, rattles, rocking horses, cherubs or a stork. How about a teddy? He can even be dressed up for the occasion with a pretty pink or blue bow around his neck.
A different idea for baby cards is to make them look as though they are a tiny blanket. Edge the card with silky fabric all around to imitate the blanket binding. Cute and cuddly.
For a baby girl you can go to town with fabric, lace and ribbons. Pretty patterned vellums, soft mulberry papers and fibres can be used along with fabric flowers.
For a baby boy you could attach a swinging tag with a nappy pin. Blue and white checked gingham is pretty but not too frilly for boy new baby cards.
If you are sending a gift, such as a teddy, with the card why not take a photo and use it on the front of your card, which will be a reminder of who sent the gift.
Extra Special Cards
Don't forget that cards for
twins or triplets
are more difficult to find in the shops. Special new baby cards can be made for this wonderful event. You could include two or three teddys on one card or make a card for each baby.
Of course it isn't just the new parents who are celebrating, why not make a card for the new grandparents! You may be the only one who has thought of them, and your card will mean a lot, especially if you have made it yourself.



If the proud parents have sent you their youngsters first baby photo, why not incorporate it into the card?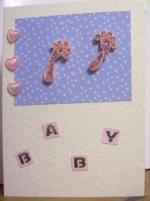 Scan the photo and create a mini scrapbook layout on the card. Add the baby's personal details like name, weight and birthdate to make it a one of a kind card that could not be bought in the shops. Include a personal message inside the card, explaining your relationship with the baby or its parents. A little vellum pocket or envelope on the front gives somewhere for the hospital wrist band to be kept.
Later the card could be added to the baby's own scrapbook, were the journaling on the page could include your message from inside the card.
Most of all have fun creating your new baby cards and congratulations!