Scrapbooking Poems
Written by Family Members
Scrapbooking poems by family members is a way of keeping them safe for future generations to enjoy. The layouts below show two very different ways of including poetry in your scrapbook pages.
Probably the first thing to decide is if you want to use the poem in the poets
original handwriting
. This isn't always possible, or even desirable but it can make a lovely keepsake. If you don't want to use the original why not scan it? You can then either print the file or even complete the whole layout on the computer.
Next, do you have any photographs on a similar theme? Scrapbooking poems can give you the opportunity to create pages without photographs to give variety to your book. As we will see there are other ways of decorating the page if photos are not available.
Poems and photos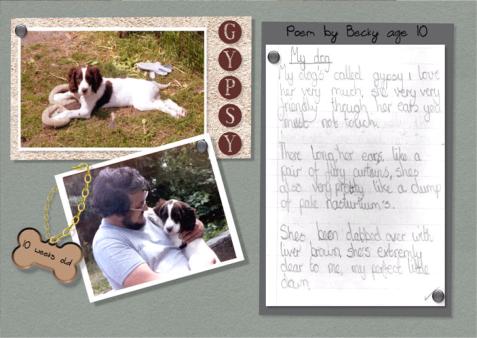 The first layout example showcases my daughter's poem about her puppy, written when she was 10 years old. The original handwriting is charming so I chose to scan the page into the computer and create a digital scrapbook layout. The poem lent itself to being illustrated with photos of our dog, Gypsy. Including my husband in one of the pictures gave a sense of the puppy's small size.
Becky had already mounted the poem on a backing sheet so I used graphics of brads to "attach" it to the background page. A soft shadow lifted it off the surface slightly.
Keeping the same theme I used similar brads to hold the two photos in place. Each photograph was given a narrow white border. A good design technique is to make one photo on the page larger and therefore more dominant . This effect is heightened by using an asymetrical mat behind the top photograph with the puppy's name spelt out in round tiles down the side.
A graphical embellishment, of a dogs bone gave me the opportunity to include the puppy's age, this time 10 weeks rather than years!
No extra journalling was needed, as the poem said it all.
Pages without photos
A different approach was taken in the layout below. The poem, by my mother, was beginning to fade and the paper was disintegrating so I decided to re-type it onto the computer using an old fashioned looking font.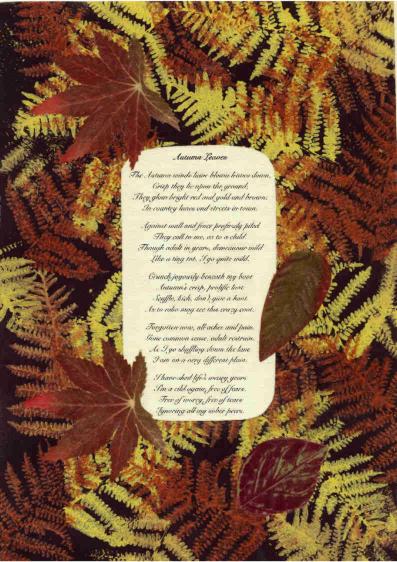 The poem shares the feelings of an older person remembering their childhood and the fun of playing in the fallen autumn leaves. I didn't want to use photos on this ocassion, choosing instead to decorate the page with leaf prints in various autumnal coloured paints. The printed poem was cut out and placed in the centre with some dried autumn leaves overlapping in places attached on top.
I hope these examples give you some ideas on scrapbooking poems by members of your own family.
---
---
Top of Scrapbooking Poems
Digital Scrapbooking Layouts for Weddings
School Scrapbooking
Return to How to Make a Scrapbook
Return to Handmade Craft Ideas Home Page