School Scrapbooking Ideas
Our school days are supposed to be the best days of our life. So it stands to reason that school scrapbooking deserves a place in our albums.
Scrapping your children's school days can be fun. Especially if you let the children join in. Their view may be very different from your own! You may be delighted with the way their grades are improving, whereas the most important thing to them is what they had for dinner!
Here in the UK photographers regularly visit schools to take formal portraits, which you can use in your school scrapbooking pages or you can take candid shots of your own. That picture you took of your youngster all dressed up in a brand new uniform ready for his or her first day at school is a definite photo to include!
Include schoolwork in your layouts
Why not include the child's own schoolwork in the layout? Perhaps they wrote a funny diary entry, or a
poem
they are really proud of.
My daughter Becky wrote a poem about school which I scrapped very simply. I used a woodgrain background to represent the school desk, then attached the original poem. I matted the photo on red card to pick up the bright colour of her school bag and used photo corners to attach it to the page. Simple but effective. In case you cannot read the poem in the picture I have included it below the photograph.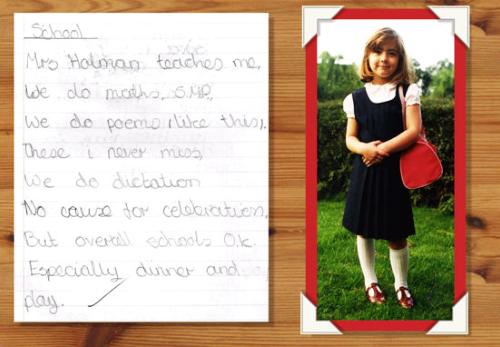 School trips
Becky's School Poem
Mrs Holman teaches me,
We do Maths, SMP,
We do poems like this,
These I never miss.
We do dictation,
no cause for celebration.
But overall, schools OK,
especially dinner and play.

School trips yield great photo opportunities too. If friends are included in the shots be sure to mention their names in your journalling. I have school pictures of my own childhood and just cannot remember some of my friend's names. Explain where the photos were taken, the purpose of the trip and any exciting moments.

You may want to volunteer to go along and help on the trip, or, if the child is older, they could take a camera and photograph the day for themselves. Ask them to tell you all about it when they get home. A voice recorder is a boon for this situation. Just turn it on and forget about it while you share the story of the adventure with your child. Later, play it back and you will be able to quote them in your journalling.

Schooldays past
School scrapbooking isn't limited to the here and now, of course. Look back at pictures of your own schooldays and remember the things you enjoyed or hated about that time. You may not have relevant photographs to go with your memories but don't let that stop you telling your story. You can use embellishments such as books, an apple, pens and pencils or a ruler to cheer up a page that is mainly text. Or why not piece together a paper blackboard and use a white or silver pen to write on it?
You can go back even further and ask your parents about their schooldays. You will probably find things were done very differently back then. Prompt your relatives with questions like:
how many children were in your class?
How big was your school?
How far did you have to travel to get to school? How did you get there?
Did you like school? Or hate it?
Did you have a favourite teacher? Or one you really disliked?
Did you get bullied?
Who was your best friend?
What were you favourite lessons?
Again that voice recorder may come in handy if you manage to get your relatives talking; taking notes may break the spell of reminiscence.
Whoever you feature in your school scrapbooking, your children, grandchildren, yourself or your parents the pages will help to keep those memories alive.
---
---