Making Jewellery
What girl doesn't love beads and bangles? Making jewellery yourself isn't difficult, why not have a go?
Each one of us is unique and we want to stay that way don't we? So why wear mass produced jewellery bought from retail shops when you can make your own special pieces to wear with pride. If you wish you can replicate the shop-bought jewellery using reasonably priced quality materials.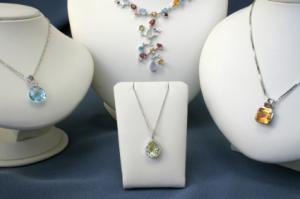 Or why not be really creative and design your own! You will be sure to be the only one wearing it on the high street.
You don't need to have a professional studio in order to make your own jewellery, just room to store your supplies and tools and a place to work.
How to start making jewellery
Start by thinking about what kind of style and effect you would like. Do you want one main colour or do you want to mix them? Subtle effect or lots of sparkle!
When you first start making jewelery, a pendant is a good introduction to the craft. You can use a single focal bead, with just a FEW beads either side to enhance. There are some fabulous stones, shell, crystal and glass to choose from. Or why not pick your birthstones to make something really special. You can use leather, suede, cotton cord or thong to string your beads or stones onto.
Beads come in many shapes and sizes, they can be made from glass metal, clay, porcelain or many other materials. Crystals such swarovski give a real sparkle to your jewellery.
Of course you can even make your own beads from materials like fimo polymer clay, or even paper!
You will need to check the hole size in the bead to help you decide what stringing thread you will use. Chunky beads are better on a thicker thread. Delicate ones sit better on fine wire type, more usually known as floater necklaces. A choker can be made from metal or ribbon using beads or a pendant.
Don't forget sometimes a silver chain is all that is needed to set off a beautiful stone! Making jewellery really doesn't have to be complicated!
It is even possible to make gorgeous jewellery with just beads, needle and thread. Bead weaving can produce equisite necklaces, amulets, brooches and more. Bead weaving can be done with or without a loom.
Findings
In addition to the beads and chains suitable clasps may also be needed for fastening your jewellery. Clasps, fasteners and fittings are known as Findings, so look out for this name when browsing for your jewellery supplies.
You can make bracelets in a similar way to a necklace. Elastic thread is a more popular choice for stringing to produce a better fit. You can also buy silver chains suitable for adding charms or beads to make a bracelet or anklet.
Earrings are a little more difficult and fiddly, especially the drop or dangle type. A higher degree of skill and patience is needed as you have to bend metal pins and attach to ear wires. I started by buying a kit with instructions for making jewellery which was great for building confidence and practice. Also read books and magazines to help you learn. Stud earrings can be made by gluing a gem or stone onto a ready made component.
---
---