Kids Crafts are Fun, Fun, Fun!
Kids Crafts are so much fun for children and adults! Forget about the mess for once and enjoy yourself!
Children love it when you spend time with them making things. I have helped with the children in our local school and playgroup as well as raising two of my own and I know how much they get from it. Precious time spent together.
Of course there are a lot of crafts that kids can do either with you or on their own. Too many to mention. Adult crafts can be adapted to suit your children but they tend to be naturally very creative. Most of them anyway!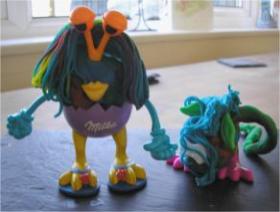 Many schools have regular craft activities and holiday and After School Clubs are usually excellent at teaching and supporting it too. Look out for advertisements in your community.
We will try out many kids crafts in these pages.
One of the first is modeling with playdough. Kids love to make something out of a ball of dough or clay, all you need are the recipes to make it, and we have three for you! The models to the left are, according to my grandson, representative of his mum and dog.
Watch out for pages on collage, bubble painting, scraffito, mosaic making, pompoms and many more.

Craft Parties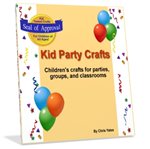 Craft parties are becoming popular now too. If you are brave and creative yourself you can do one for your own kids!
Chris Yates has put together a great resource full of all sorts of kids craft ideas for parties. Her ebook is jammed with almost 200 ideas of things for kids to make.
She was so disappointed with the parties that her children were invited to that she wrote this book to help other mum's find fun ideas for party crafts that the kids would enjoy. And at the price she is charging it is a steal!
Fun Gift Boxes
I found a wonderful package that would be great for making fun gift boxes for each party guest. This ebook or CD (you can choose which) contains templates for boxes in all sorts of shapes and you can make them in any size. Hey, you could even get the kids to make their own and then take them home with them with gifts inside.
There is even a sample gift box that you can download and make for free, great for little boys!

Let Someone Else Organize the Party for You!
But do not fear if you really don't want to host your children's craft parties yourself. There are people you can pay to do it for you! It doesn't have to be in your home either - a good idea if you can't stand mess. Just as you would for a disco or fast food party you can pay for a venue. Many organizers will also have a venue as part of the package. It really depends on what you want and how much you want to pay.
Check out Kids Party Cabin or Diva Girl Parties for information about kids craft parties.
---
Playdough

With four recipes to choose
from, get modeling!

Crayon crafts

You can do so much
with wax crayons!
---