Playdough and Salt Dough Recipes
for Crafting Fun
Kids (of all ages) love playdough and clay modeling, whether it's the real stuff or homemade.
Please be aware that homemade doughs are not durable and models cannot be kept for posterity.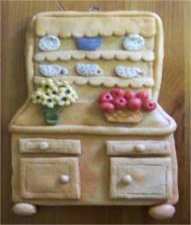 Safety tip
Because it is made from wheat traditional dough can also cause problems for children with coeliac disease who need to stick to a gluten free diet. I know, they are supposed to play with it not take a snack! But, even so, inevitably little fingers will find their way to little mouths and this is a no-no to these children.
But don't worry we have a recipe that even those who follow a gluten free diet can use safely. If you are working with a group of children this may be the best one to use, just in case!
Salt dough is a little more flexible depending on the recipe used to make it and can be painted. Long lasting models and decorations can be made if they are hardened off properly and varnished.
So let me give you four recipes for playdough, bread dough and salt dough.
Cornstarch Clay (gluten free)
You will need:
1 cup cornstarch (cornflour)
2 cups salt
1 and 1/3 cups cold water
Method:
Put salt and 2/3 cup of water in a pan and bring to the boil.
Mix cornstarch and 2/3 cup water and then blend the two mixtures together and knead into a clay.
This quantity makes about 3 cups of a clay that can be airdried and then painted. Store any unused clay in an airtight container.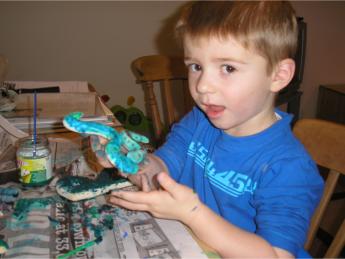 My 3 year old grandson with his painted salt dough snakes and his initial R for Rocca, that mummy modelled for him.

Traditional Playdough
You will need:
1 cup flour
1 cup warm water
2 tsp cream of tartar
1 tsp oil
1/4 cup salt
food colouring
Method:
Mix it all together in a saucepan, adding the food colouring last.
Stir over a medium heat until smooth then remove from pan and allow to cool enough to handle.
Knead until blended smooth then place in a sealed plastic bag, or airtight container, and it should last for a long time.
Salt dough recipe
You will need:
4 cups flour
1 cup salt
1 to 1 and1/2 cups hot water
2 teaspoons veg oil
Method:
Mix salt and flour then add water until the dough becomes elastic. Next add the oil. If the dough is too sticky add more flour, if too crumby/dry add more water. Add food colouring or paint.
If you want to paint this dough afterwards, you will have to bake it first at around 200 degrees. The time will vary depending on size. Seal with varnish after painting.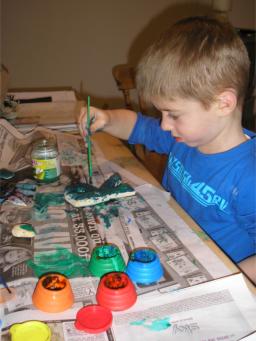 Young Rocca painting his salt dough models.

Old fashioned bread dough
You will need:
3 slices white bread
3 tablespoons white glue
3 drops lemon juice
Method:
Remove the bread crusts, crumble onto a plate and add the glue and lemon juice. Knead this mixture until it resembles an ordinary dough and no longer sticks to your fingers.
This bread dough will keep in a plastic bag in the refrigerator for some time. Unless the model is painted and/or varnished when finished it can shrink slightly over time.
I hope you find these recipes helpful and have fun trying out clay modeling (with your kids)!
Easy Salt Dough Christmas Ornament Video Demonstration
---
Kids crafts are fun!

Visit our main kids crafts page!

Have Fun with Crayons

There are so many things
you can do with wax crayons!
---