How to Make Envelopes for Your Handmade Cards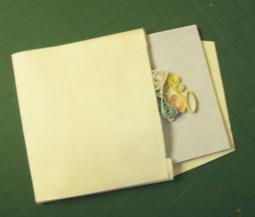 There are three main reasons for learning how to make envelopes.
It may be difficult to buy one that is the right size and shape for your handmade card
You can be creative and make an envelope that coordinates with your card
You can pad your handmade envelope to protect delicate quilled cards
What will you need
Paper of your choice (at least three times the width of your card)
Scissors or craft knife and ruler
Bubble wrap
double sided tape or glue
Making a template for your handmade envelopes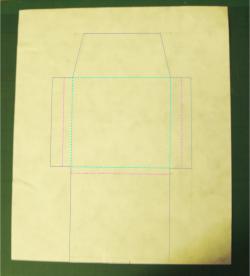 The first step in learning how to make envelopes is to lay your paper on a work surface and place your card on top. Draw around the card with a soft pencil. Then move the card higher up the paper and draw around it again, making sure it meets up with your first drawn shape.
Next add a rectangle half the size of the card itself for the flap. You can angle the ends of the flap or round the corners if desired.
Beside the second card shape you drew add tabs to each side about 1.5 to 2cm wide.
You should end up with a shape drawn on your paper similar to the one shown in grey on the photograph.
Using the photograph as a guide, make folds along the turquoise dotted lines. Then fold again on the pink lines. If you are using a thicker paper or card you may want to score these lines before folding. These folds allow room inside your handmade envelope for your quilling.
To give extra protection to your quilled cards you may like to cut a piece of bubble wrap or thin foam to fit inside the basic card shape. Attach with double sided tape.
Turn the envelope face down and position more double sided tape on the outside of the side flaps. Peel back a little of the backing paper and fold the remainder at an angle. This makes it easier to stick the pieces together than if you removed the backing paper completely from the tape.
Turn the envelope over, ensure the paper has been folded along the bottom pink line (to give room for the depth of the quilling) and fold the bottom section up and stick in place onto the tabs, (removing the rest of the backing paper from the tape once you have the positioning correct).
The top flap can then be folded down over the card once it is in the envelope. You could seal the envelope with a sticker or small piece of tape. You can then add embelishments or decoration to your envelope if desired.
Congratulations on completing your first handmade envelope. If anything is unclear in these instructions for how to make envelopes please do not hesitate to contact me and I'll try to help further.
---
---