Your Headline
Your first paragraph ...
I love making a woven fabric heart or two to give to someone special. I fill each one with chocolates or other special treats.
I often make dozens of these fabric hearts as Valentine's gifts or as favors for bridal showers or couples' parties.
I first learned to make these hearts with paper, but soon realized that I could easily apply fabric to the paper using fusible web
and really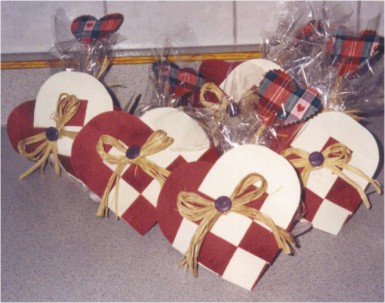 class up this popular craft, as well as make it more durable.
The sample above uses a wide weave, but the craft can also be done with a much smaller weave once you've practiced a little.
Instructions for Making a Woven Fabric Heart
If you've never made a woven heart before, you'll want to practice first with paper.
I am including a printable template, but you can easily draw your own (any size) once you get the knack of it.