Show Off Your Quilling Ideas and Projects Here
The place to share your work!
You will find many quilling ideas on this site, but why not share some of your own? Do you do 3D quilling, enjoy making quilled cards, like to add quilled decoration to invitations?
What is your favorite piece of quilled work that you have done?
How long did it take you? Did you keep it or give it to someone special?
Which type of quilling tool do you use? Any tips you could pass on to a beginner to the craft?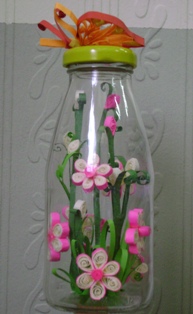 Or perhaps you are a beginner and would like hints and tips that could improve your work from those who have been quilling for longer.
Do you make a part time (or even full time) income from your craft work? Would you like to?


Create your own page here!
This page is the starting point for
a whole new quilling community
. Using the simple form at the bottom of the page you can tell other quillers about your hobby, and comment on the ideas and projects that they too have shared.
Its almost like having a mini website of your own that you can build and send friends to, without having to learn things like HTML. Best of all its FREE to join in. So what's stopping you? Share your ideas today!
Share your Quilling Projects
Don't be shy... show off your favorite quilled project, and tell us a bit about it!

Who or what inspired you? What steps did you take to make it? Where is your creation displayed?


Quilling Projects Others Have Shared
Click below to see contributions from other visitors to this page...

Paper Quilling Art in a Bottle

I like Quilling. I tried it a different way. I did it in a bottle. It's very easy. It's nice..... I'm from sri-lanka
Vintage Quilling

I enjoy collecting and doing vintage quilling. It doesn't matter much what, I collect kits, books, advertisements, old order forms, everything having …
Cart of Flowers Quilling Project

I am a quiller from Sri Lanka and quill as a hobby. I have my blog of Quillings which is http://www.anastasiaw.blogspot.com and would like, you to …